USANA Amphitheatre | West Valley City, Utah
If you've been asking 'where the hell are my friends?!', fret no more as Paul Klein and Jake Goss take LANY on the Summer Forever Tour, stopping by at USANA Amphitheater on Saturday, 17th of September 2022. They've kept fans company during the pandemic with back-to-back releases of albums namely "Mama's Boy" and "gg bb xx". Hailed as "The modern, thoughtful pop group the world needs right now" by the Grammys, LANY has won hearts across the globe with laidback heart-fluttering hits "ILYSB", "Super Far", "Mean It" with Lauv, "Dancing in the Kitchen", and many more. Fans are in for colorful surprises at the Summer Forever Tour led by LANY. Book your tickets now!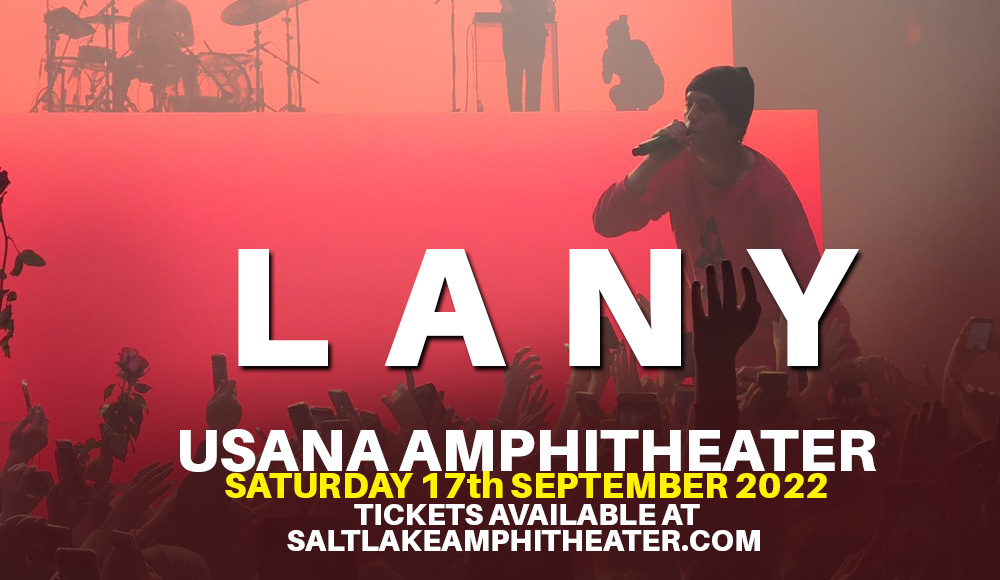 From L.A. to New York, LANY has expanded its reach to the global stage, amassing attention as a fresh take on modern pop music. From winning hearts through early bedroom pop hits "Made in Hollywood", "ILYSB", and "Good Girls", LANY showed growth and maturity in their highly-acclaimed 2020 album "Mama's Boy", and 2021 record "gg bb xx".
Formed in 2014 in Nashville, anonymously taking their shot into the scene by uploading two tracks "Hot Lights" and "Walk Away" to a SoundCloud account with no followers, LANY found themselves surprised as record labels came expressing interest through emails just after days of posting the two tracks, Klein saying they still don't know how they discovered their songs.
Soon after, they dropped their self-released debut EP "Acronyms" which featured their single "ILYSB" which became a talk of the town online, later on earning a Platinum certification from the RIAA. They also released their next singles "Made in Hollywood" and "Bad, Bad, Bad", finally revealing their identities.
From then on, LANY soon found themselves significantly growing their audience, touring alongside the likes of Tove Styrke, Troye Sivan, Halsey, John Mayer, and Ellie Goulding. They released their self-titled debut album in 2017 featuring hit tracks "Super Far", "Good Girls", and "13".
2018 marked the release of LANY's much-anticipated second studio record, "Malibu Nights". Soon after, they set foot on their first arena show in the Philippines, selling tickets out in just 24 hours. They returned to the country a year later in 2019, selling out three consecutive nights of arena shows in Manila.
"Malibu Nights" got hearts across the globe getting the 'feels' with its singles "Thru These Tears", "I Don't Wanna Love You Anymore", "Thick and Thin", "If You See Her", and "Malibu Nights".
In 2019, LANY dropped collaborations "Okay" with Julia Michaels, and "Mean It" with Lauv.
In the midst of a global pandemic, LANY kept fans company with two new studio records. 2020's highly-acclaimed "Mama's Boy" featured fan-favorites "Good Guys", "Cowboy in LA", and "You!". In 2021, they dropped their dance-synth driven record "gg bb xx" with its crowd-favorites "Stupid Feelings" with 220 Kid, "Roll Over Baby", and "Dancing in the Kitchen".
Just recently, LANY announced that keyboardist Les Priest was leaving the band "to focus on life as a writer/producer in Nashville". Moving forward as a duo, LANY remains true to its core of serving listeners synths to heart-fluttering tracks that could make you dance, fall in love, get the feels, or even shed a tear.
"Primed to reshape pop music's zeitgeist" as Bandwagon Asia hails LANY, Klein and Goss are set to continue making great waves in the pop scene. So, don't miss out on this chance to catch LANY perform their best hits and crowd-favorites at the Summer Forever Tour at USANA Amphitheater on September 17, 2022. Book your tickets now!