USANA Amphitheatre | West Valley City, Utah
Head on to the moshpit to headbang and slam like it's 1995! 90s alternative titans Live and Bush, plus guest performer Our Lady Peace, are headed to this side of town for their highly anticipated one-night-only live concert at the USANA Amphitheater on Saturday 12th October 2019. This show is part of their Alt-imate tour that throws-in a double celebration for the 25th year anniversary release of two quintessential albums that shaped the alt-rock era — Live's "Throwing Copper" and Bush's "Sixteen Stone". Indeed, alternative rock devotees are expected to pull all the stops until they get their hands on one of the hottest tickets of this concert season. Hurry, this one is a fast mover. Click that "buy tickets" button now!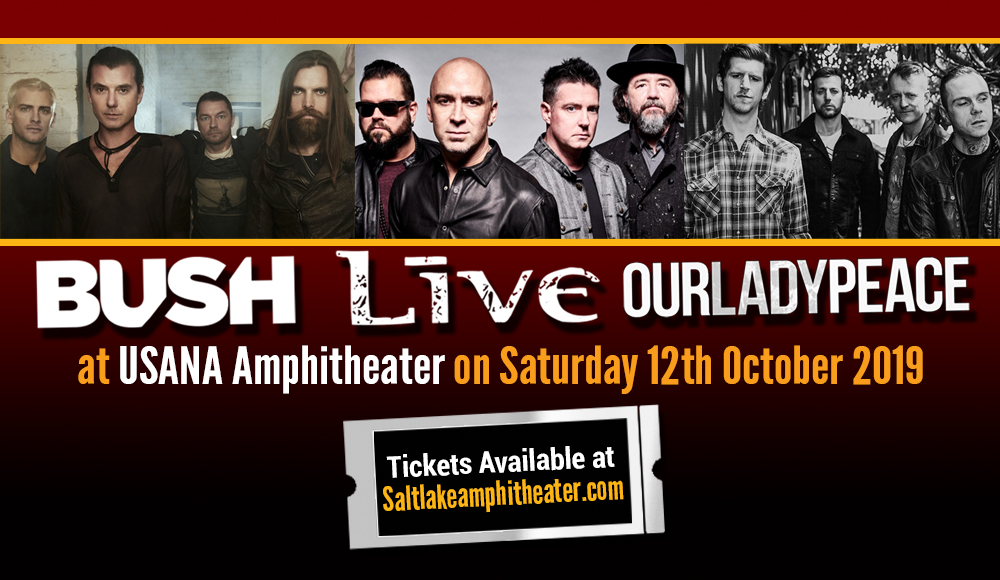 "Throwing Copper" and "Sixteen Stone" — it's been 25 years since singles from this album created a massive onslaught of chart-topping hits. "Selling The Drama", " I Alone", "Glycerine" and "Machinehead" — they became anthems then and are certified timeless rock classics now. It is simply mind-blowing to imagine two bands responsible for these colossal hits come together in one stage. But the rock gods are probably in a good mood as they made it possible for Live and Bush to share the stage and be double headliners for monumentally real Alt-imate tour.
"We are thrilled to be touring this summer with LIVE," said Bush frontman Gavin Rossdale in a release. "The wealth and depth of songs from both bands should provide a great night of music. Looking forward to seeing you all this summer."
Live frontman Ed Kowalczyk shares the enthusiasm as he quips, "Bush is a great band and Gavin is a super passionate singer and performer. I'm really looking forward to spending the summer with them. "I know the fans are going to get one hell of a show."
Being two of the most lauded albums in rock history, Bush and Live drew some insights on how it shaped their careers and how it has impacted on fans they had then and now…
"Sixteen Stone propelled us onto the musical landscape," said Rossdale. "Those songs have found a way into the soundtrack of people's lives and that is the highest compliment available. We've continued to make music that resonates with people."
"It's an amazing feeling to know that these songs still resonate so profoundly with people," said Kowalczyk. "And I still totally get off on celebrating this music with them. With Throwing Copper, we were taking on big things with a big sound. Love, truth, birth, death, philosophy, religion, spirituality…we were asking the perennial questions and poking around for answers with this massive and dynamic sound. It attracted people from all over the world. We were inviting them to imagine that rock and roll could be a valid forum for exploring these types of things…we built it and they came."
Rock your heart out, don't miss this for the world! Book your tickets now!