USANA Amphitheater | Salt Lake City, UT
Well, that's it, folks, time to shut down your laptops and get out of your work-from-home clothes…It's time to go "Live & UnZoomed"! Legendary rockers REO Speedwagon, Styx & Loverboy are hitting the live concert stage of the USANA Amphitheater on Saturday 9th July 2022. The world has changed so much since the pandemic, but fans of these iconic bands remain true and eagerly anticipating to see and hear 'live and unzoomed' renditions of "Can't Fight This Feeling", "Keep On Loving You" from REO Speedwagon, Styx's "The Best of Times", "Renegade", "Babe", and many more. Click on that "Get Tickets" sign flashing on this site to book your tickets in a flash!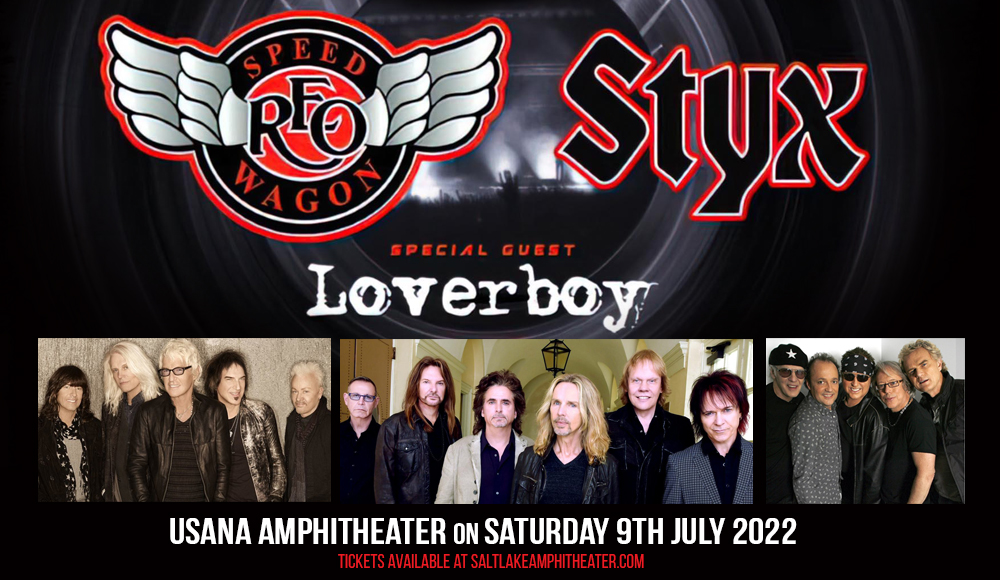 "Three years ago, none of us knew what Zoom was," Styx's Lawrence Gowan , exclaims. "It was just a word I remember using as a kid about a car that's going fast. I got a call from the office saying, 'We're going to do a Zoom call' and I went, 'What the hell is that?'"
The powerhouse classic rock gods REO Speedwagon and Styx last embarked on a joint tour some four years ago; and due to the lockdowns, they've had to do some live performances via Zoom. A big change and adjustment for these artists who have the drawing power to fill huge arenas and stadiums all over the world. Yet fans follow and watch them wherever, but nothing beats the thrill of a concert experience.
REO Speedwagon has sold more than 40 million records and has charted 13 Top 40 hits, which include crowd sing-along favorites like "Can't Fight This Feeling" and "Keep On Loving You". Styx is certified with 20 million records sold and has eight songs that charted at the top 10 on the US Billboard Hot 100, as well as 16 top 40 singles, with their anthemic classics like "Mr Roboto", "The Best of Times", "Babe", among others.
Styx's Tommy Shaw said in a statement, "I can't think of a better way of touring the USA next year than with good friends we've known for years and performed with on many a stage. What a great night of music this will be!"
Their fans couldn't agree more and are zooming (in the literal sense of the word) in to score tickets to the show. Don't be left behind. Tickets are now on sale!