USANA Amphitheatre | West Valley City, Utah
Post-grunge fans, are you ready for Shinedown?? The band that brought you endless hits on the mainstream rock charts are back with their all-new album, "Attention Attention"!! With special guests Badflower, Dinosaur Pile-Up, and Broken Hands. They're headed to the USANA Amphitheater on Thursday 18th July 2019 – make sure you're there!! Get your tickets now, while they last!!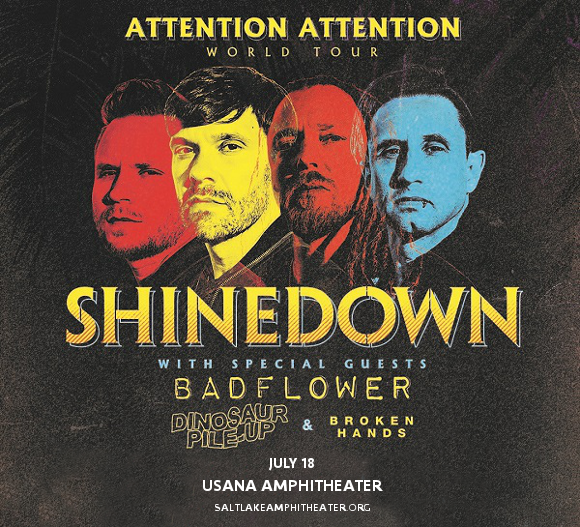 The new album is a concept album, Shinedown's first. "The whole album is about not being afraid to fail," said singer Brent Smith, speaking about the themes of "Attention Attention" I think sometimes people will paralyze themselves mentally if they have achievements that they want to go after. They never tried to do them before or they've second-guessed themselves and their accomplishments and are they even willing to go the extra mile…. I don't think that people will be defined by their failures. I think people will be defined by the fact that they didn't give up. And that's a lot of what the album is about."
It's a strong message for fans. But if there's one thing you'd better not fail at, it's getting tickets to see them live – grab 'em before they go!!