USANA Amphitheatre | West Valley City, Utah
HUGE news – Third Eye Blind are headed out on tour this summer, and they're joined by Jimmy Eat World, with special guests Ra Ra Riot as opener! They're bringing the Summer Gods tour to the USANA Amphitheater in Salt Lake City Utah on Friday 21st June 2019 – don't miss out!! Tickets are on sale now and likely to disappear quick – grab yours quick, before everyone else does!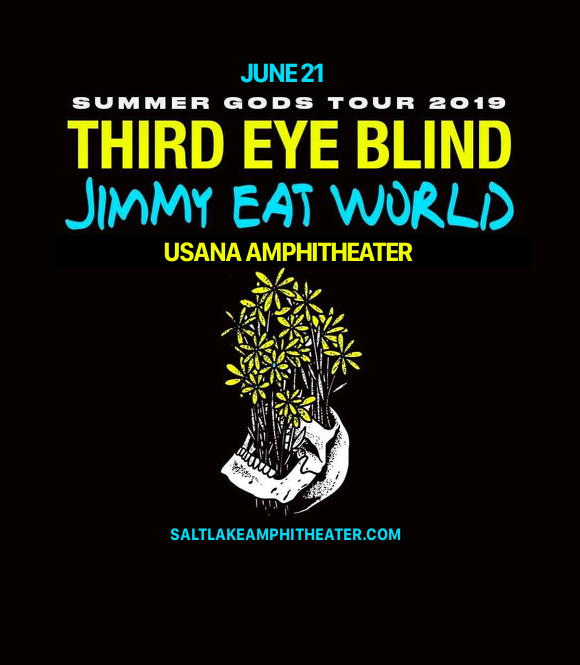 Formed in 1993 and currently consisting of Stephan Jenkins, Brad Hargreaves, Kryz Reid, Colin CreeV, and Alex LeCavalier, Third Eye Blind made a reputation for themselves on the pop rock scene for their albums "Third Eye Blind" and "Blue," which went gained an astonishing 6 times and one time platinum certification each! Today, they have sold over 12 million records in total around the world. Fans are hyped to welcome this much-loved band back to the road!! In addition to the new tour announcement, Third Eye Blind have confirmed that they're working on an all-new album, the follow up to 2015's "Dopamine."
"The most scintillating, inspiring collective moments of my life have been outdoors in the summer exploding with music," said Stephan Jenkins, singer of Third Eye Blind, in an interview. "Those sensations travel from when I was a little kid and rock music was brand new to our last Summer Gods tour, when everything is magically new again. I seek to create that exact blissed-out state of aliveness on tour this summer."
Are you ready to experience that bliss for yourself?? Then don't delay – get your tickets NOW while you still have the chance!!