USANA Amphitheatre | West Valley City, Utah
The "Kryptonite" rockers are marking their big live stage comeback, celebrating its sophomore album's anniversary, Away From The Sun. The American post-grunge rock band 3 Doors Down is gearing up to celebrate the legendary record as the sun goes down at USANA Amphitheater on Thursday, 20th of July 2023. Celebrating summer nights across the country with their rockin' hits "When I'm Gone", "Away from the Sun", "Let Me Go", and "Here Without You", 3 Doors Down is set to serve waves of nostalgia along with big surprises at Away From The Sun Anniversary Tour. Book your tickets now!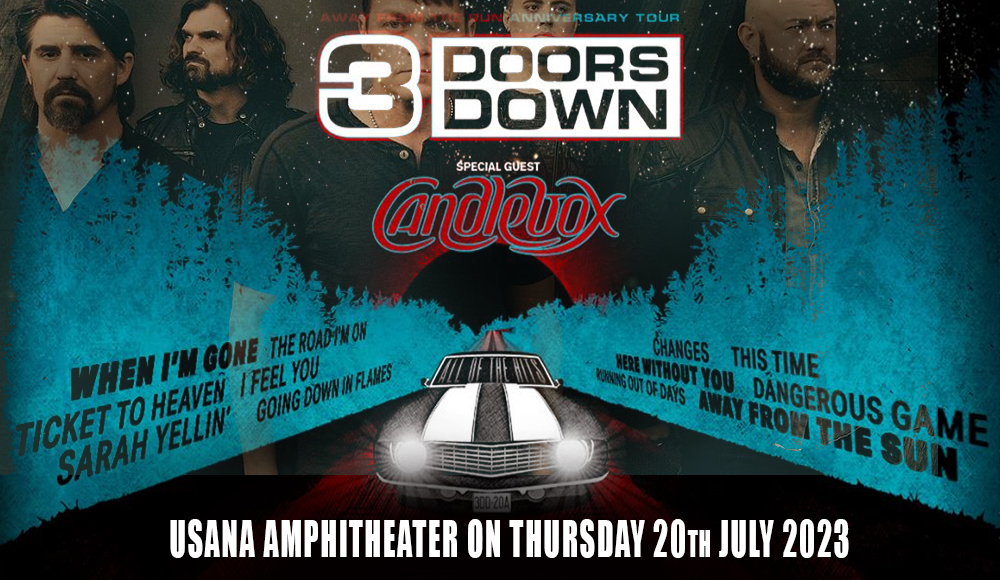 This summer, the hard-hitting emo rockers behind emotional hits "Here Without You" and "When I'm Gone" are taking the stage to celebrate over a decade since the release of their legendary album "Away From The Sun". 3 Doors Down will be joined by special guest Candlebox in the anniversary tour trek this summer. Produced by Live Nation, the band is set to perform the album in its entirety, with a handful of big surprises in store for every fan.
The tour is slated to be 3 Doors Down's last US tour to promote the band's 30th anniversary and its upcoming farewell studio record in the works.
"Away From The Sun" features the band's global hit single "Here Without You" which hit #5 on the US Billboard Hot 100, bagging a 3x Platinum certification from the RIAA. The album hit #8 on the Billboard 200, selling over 3.8 million copies in the US. With its massive success, the record was awarded 4x Platinum by the RIAA.
"Away From The Sun has always been a personal favorite of mine because of how much it resonated with our country's service members," lead vocalist Brad Arnold shared. "We are so blessed to be able to celebrate these significant milestones because we were very young making these albums, and we still have so much more life to give our fans."
As 3 Doors Down nears its touring finale with 30 years of radio-favorite rock hits, its anniversary amphitheater shows are promised to be their biggest and most intimate yet. "The show we are planning will be next level this year. It's going to be incredible to have Candlebox on tour with us. I've been  a fan of theirs since I was a teenager," Arnold added.
Having sold over four million copies globally of their acclaimed sophomore record, "Away From The Sun" marked the band's continued success for years to come. "We're just trying to be honest with ourselves and write music that we like. I think we've done that with this album," Arnold shared with Billboard in an interview in 2002.
With music that stayed true to heart for years to come, 3 Doors Down is set to bring waves of nostalgia as they embark on a finale tour, along with a farewell album in the works, capping off 30 years of hard-hitting rock hits.
3 Doors Down will also be starring in The Song's fourth season, revisiting legacies of the industry's most iconic recording artists, and essential tracks that brought them to the limelight.
Don't miss out on this chance to celebrate with the one and only 3 Doors Down at Away From The Sun Anniversary Tour by booking those tickets now!