USANA Amphitheater Seating Chart
The USANA Amphitheater boasts 13,000-20,000 lawn seats and 7,000 reserved seats, so there's room for everyone!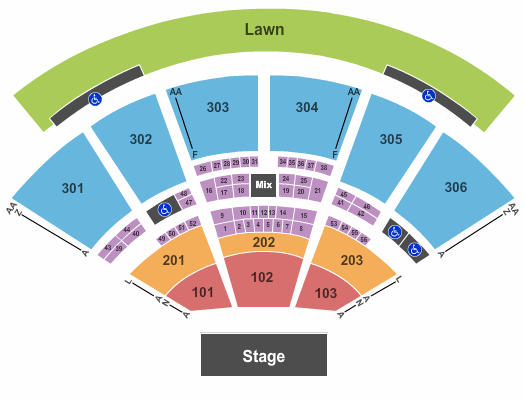 Seating in the reserved ticket area is laid out in a semi circle and divided into sections, with the lawn area behind. Reserved tickets will state a row and seat number, whereas lawn tickets are labelled 'LAWN' and include a number.
Depending on the event, a general admission area will replace the reserved seating area. Tickets for this area are clearly recognizable, marked with 'GA' and a corresponding number.
For a true VIP experience, USANA Amphitheater boasts 40 box suites that can hold up to 340 guests. Facing the center stage and offering stunning private views of every event, these truly offer the ultimate USANA Amphitheater experience!
Box suites are available to suit groups of 4, 6, 8 and 10 people, and are available for the season as well.
Please note that all ticket sales are final and non-transferrable.