USANA Amphitheatre | West Valley City, Utah
The boys you gotta seriously love big time are back! They are no other than Big Time Rush, who took the world by storm with their hit Nickelodeon show that made every teen around the world sing their hearts out to "Boyfriend", "Worldwide", "Big Time Rush", and "Windows Down". After a hiatus of eight years, the heartthrobs are finally back together, having recently dropped their new love-induced single "Not Giving You Up", and announcing the Forever Tour. The boys are stopping by the USANA Amphitheater on Thursday, 18th of August 2022, to meet fans and perform their hit songs, crowd-favorite tracks, and new music live on stage.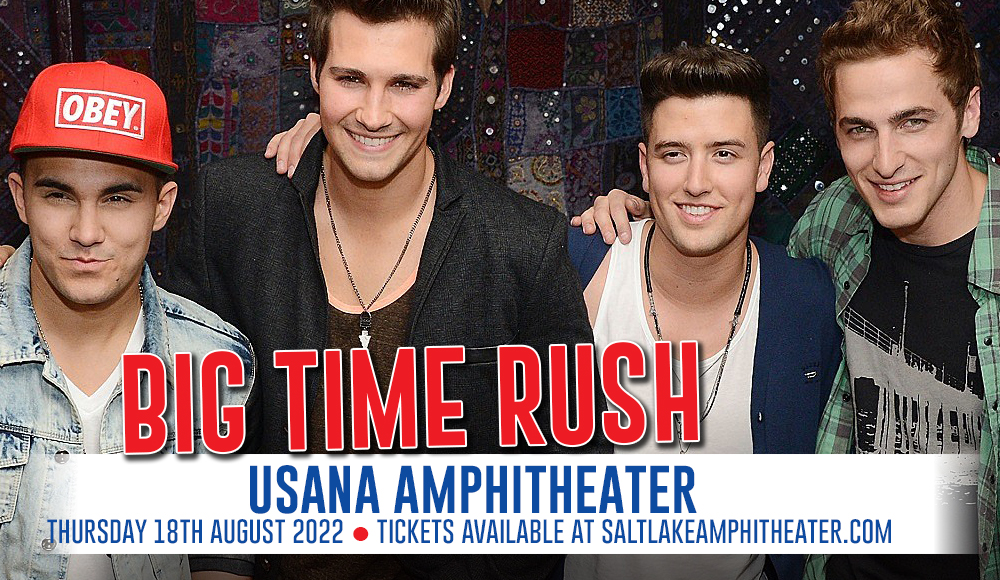 Big Time Rush members Kendall Schmidt, James Maslow, Carlos PenaVega, and Logan Henderson found their big break as stars in the hit Nickelodeon TV Show, "Big Time Rush" where they went on cheeky misadventures as four hockey players selected to form a boy band.
The four hockey players from Minnesota selected by the show's fictional producer Gustavo Rocque soon took the world by storm and won the hearts of fans across the globe. They got viewers globally singing along to "Till I Forget About You", "Any Kind of Guy", "Worldwide", and "Boyfriend".
After the finale of their Nickelodeon show, the boys continued to tour until 2014 and went on an indefinite hiatus.
By 2020, Big Time Rush surprised fan around the world amidst the onset of the pandemic uploading a video of themselves wishing their fans well. On December of the same year, James uploaded a video on YouTube performing "Beautiful Christmas" with the band. In December of 2021, BTR dropped their newest single since 2013, "Call It Like I See It", followed by 2022's "Not Giving You Up" where the band went on as professional love advice professionals.
The band describes their reunion as "serendipitous" in an interview with PEOPLE. "A blessing in disguise was that the music was good when it started, but after a year of revising, revisiting, figuring out what we want to do, our music now is so much better. So everything happens for a reason. And we're super pumped for the fans," said James.
There's definitely no giving up Big Time Rush as fans will forever remember the boys' cheeky adventures and heart-fluttering songs throughout the years. Watch out for more big-time surprises brought to you by the one and only Big Time Rush in this new era. Catch their big live tour comeback on the Forever Tour. Book your tickets now!