USANA Amphitheatre | West Valley City, Utah
Black Sabbath comes to USANA Amphitheater on Sunday 11th September 2016
Before they turn down the volume and pull the plug,this is your last chance to hear the heaviest rock sound ever heard… BLACK SABBATH's 'The End' is the final tour by the greatest metal band of all time.
On February 11, 2016, expect a monstrous traffic jam on roads leading to their tour venues, as fans make their way towards the stage where they would see, hear, and rock with their ultimate metal heroes for the very last time.
Be part of this spectacular moment in rock n' roll history.
Get your tickets now!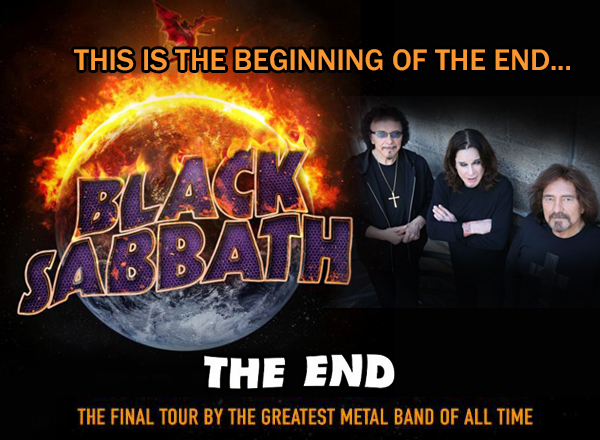 Did you know that the earth has been shaking for nearly 50 years? Blame it on Black Sabbath! Their monumental career started 5 decades ago with with "a crack of thunder, a distant bell ringing and then that monstrous riff…", the world was never the same again. Four teenagers from Birmingham, England, namely: Tony Iommi (guitarist and main songwriter), Geezer Butler (bassist and main lyricist), Ozzy Osbourne (singer), and drummer Bill Ward (not part of the tour), spread darkness across the land with their ominous sound and dark lyrics. One of their early recordings was a movie-inspired track entitled 'Black Sabbath', which Judas Priest's frontman Rob Halford dubbed as "probably the most evil song ever written". Thereon, they started to lay down the building blocks of the so-called heavy metal movement.
Their dominion over the heavy metal genre was solidified by groundbreaking albums such as Black Sabbath (1970), Paranoid (1970) and Master of Reality (1971). Their 70 million-plus worldwide record sales still grow by the minute. Touted as "the Beatles of heavy metal", Black Sabbath are inductees and recipients of the UK Music and Rock and Roll Hall Of Fame Awards. MTV has hailed them as the "Greatest Metal Band" of all time; while VH1 and Rolling Stone have enlisted them as one of the "100 Greatest Artists of Hard Rock" and "100 Greatest Artists of All Time", respectively.
Their tour promo video clip says: "When this tour concludes, it will truly be the end, the end of one of the most legendary bands in Rock ën Roll historyÖ". Do you want to die screaming? Or do you want to die of regret of missing this one out? The choice is yours…