USANA Amphitheatre | West Valley City, Utah
Experience the heat of summer with extra enthusiasm as Fall Out Boy returns to the USANA Amphitheater on July 7 with Bring Me The Horizon, Royal & The Serpent, and Daisy Grenade. This event will be a delightful fusion of emo rock, metal, alt-electro-pop, and pop-punk rock. Music mayhem is sure to ensue as you experience this blazing lineup. With Fall Out Boy at the helm, crushing and intense entertainment are expected. With their new album "So Much (for) Stardust" due out in March, there are so much to look forward to on this night! Tickets are now up for grabs! Get yours now before they sell out!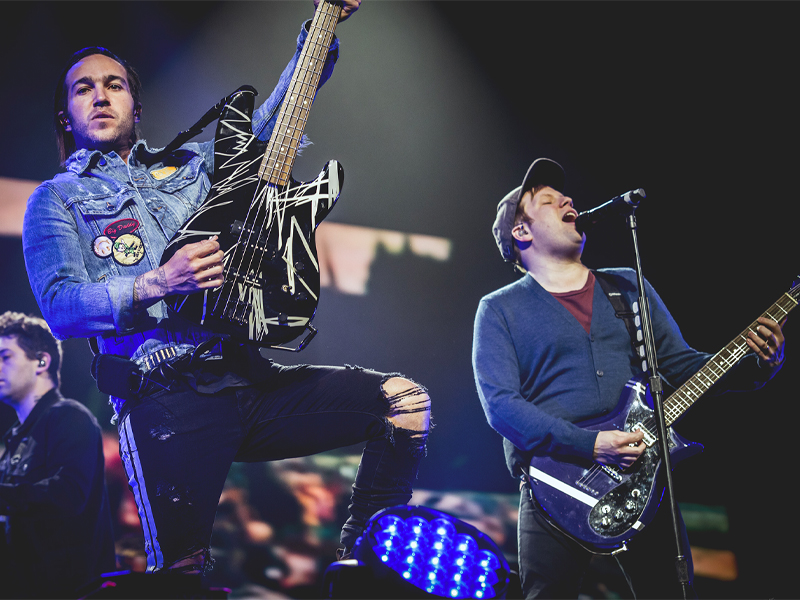 Fall Out Boy is undeniably one of the best rock bands of the 2000s and 2010s. In their career spanning two decades, they have experimented with genres of pop rock, emo, pop, alternative rock, emo pop, power pop, and punk rock. They have always come out with great music, which most people jam with. Among their best songs are "Sugar, We're Goin Down," "A Little Less Sixteen Candles, a Little More "Touch Me," "Thnks for the Mrs," and "Centuries." Currently, the band comprises lead vocalist and guitarist Patrick Stump, bassist Pete Wentz, drummer Andy Hurley, and guitarist Joe Trohman.
Joining Fall Out Boy's tour this 2023 is one of those bands that never settles for one generic sound: Bring Me The Horizon. The band has continued to ascend to the pantheon of rock bands after evolving from gnarly death metal songs to melodic metalcore. Beginning with their gritty album "Count Your Blessings" to their slightly mellower "Sempiternal," the band has continued to grow over the years, cementing their supremacy in the genre. They have released powerful songs such as "Can You Feel My Heart," "Diamonds Aren't Forever," "Drown," "Throne," and "It Never Ends."
Alt-electro-pop artist Royal & the Serpent also joins in the fun of the tour. A brainchild of Ryan Santiago, Royal & the Serpent's distinct decisive vocals and blues-tinged sounds became a highlight of this project. After her breakout with the single "Temperance" in 2017, she has released multiple EPs such as "Get a Grip," "Searching for Nirvana," 'If I Died Would Anyone Care," and "Happiness is an Inside Job."
Rounding the lineup of guests of the tour's USANA Amphitheater stop is Brooklyn-based duo Daisy Grenade. A partnership of Keaton Whittaker and Dani Nigro, Daisy Grenade trailblazes as a "power-punk bubble grunge band." The duo has released catchy, sweet but angsty records such as their EP "Cult Classic."
Catch all these incredible acts as they ignite the USANA Amphitheatre stage before Fall Out Boy takes charge. Secure your tickets now before they sell out!