USANA Amphitheatre | West Valley City, Utah
The poster boys of Nu-metal are back! Korn's headlining tour featuring Staind has been announced, and they're making their way onto the USANA Amphitheater on Thursday 9th September 2021. Both bands are on a mission to make some noise and blast out their colossal hits like "Freak on A Leash", "Did My Time", "Here To Stay", "Daddy", "Falling Away From Me" from Korn, as well as Staind's chart-toppers like "It's Been Awhile", "Something To Remind You", and many more! This is the rock show to beat this concert season. If you're a rock-solid metal fan, you don't wanna miss out on this one. Go and grab those tickets now!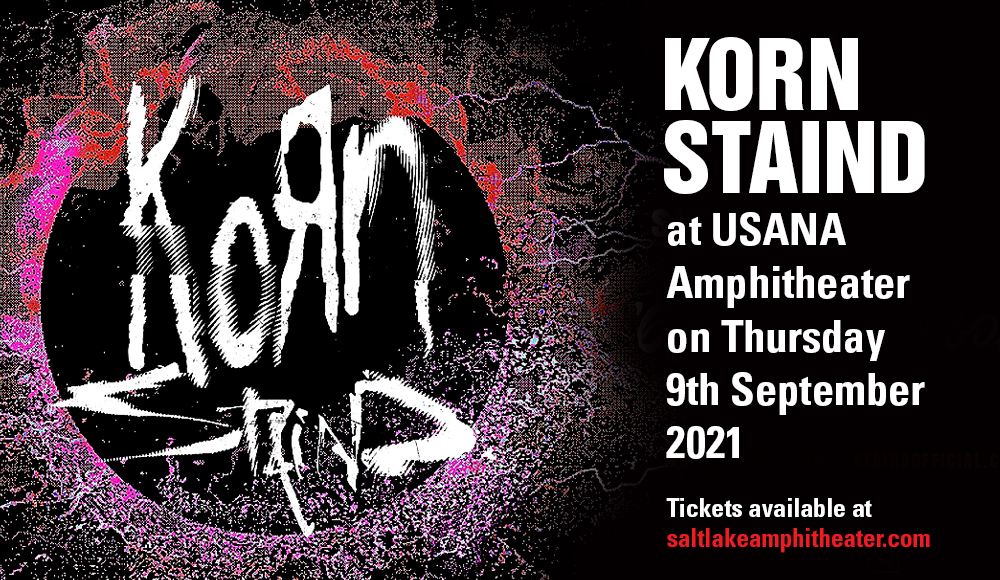 Korn lead vocalist Jonathan Davis' 'femme fatale' will be making her glaring presence onstage again as Korn heads out on their highly anticipated concert tour this year. Indeed that epic microphone has been some kind of a center of attraction during Korn's live concerts. But she's pretty much icing on the cake, so to speak. The moment Davis gets hold of her, dances, swings, twirls her around, and let out those gut-wrenching screams…darkness falls and everyone goes wild!
Korn burst out of Bakersfield, California in 1993, composed of founding members James "Munky" Shaffer (rhythm guitar), Reginald "Fieldy" Arvizu (bass), Brian "Head" Welch (lead guitar, backing vocals), and Jonathan Davis (lead vocals, bagpipes), with the addition of Ray Luzier (drums) in 2007, replacing the band's first drummer, David Silveria.
After a couple mid-success but highly critical release, Korn started their commercial winning streak with the release of Follow the Leader (1998) and Issues (1999), both of which debuted at number one on the Billboard 200. Then continuing on with a succession of best-seller albums –Untouchables (2002), Take a Look in the Mirror (2003) and See You on the Other Side (2005). To date, the band has raked-in over 40 million records sales worldwide. Korn has two Grammy Award wins out of eight nominations; and two MTV Video Music Awards out of eleven nominations.
Korn's fans have always been taking an aggressive stance in securing their tickets to their shows. Make haste, no time to waste! You can score tickets in a jiffy by clicking on that 'Get Tickets' sign on this site. Book your tickets now!