USANA Amphitheatre | West Valley City, Utah
Sting has one of the shortest names in the music industry but the length and breadth of his career encompass miles and miles of lofty recognition, awards, citations, best-selling singles and albums, and not to mention a multitude of devoted followers. As Sting rolled out upcoming dates for his "My Songs" tour, social media wires have been buzzing non-stop. This incredibly sexy Englishman is all set for his highly-anticipated one-night-only engagement right here at the USANA Amphitheater on Saturday 31st August 2019. Lock-in this date and score those tickets a.s.a.p. Act quickly before it's too late. Book your tickets now!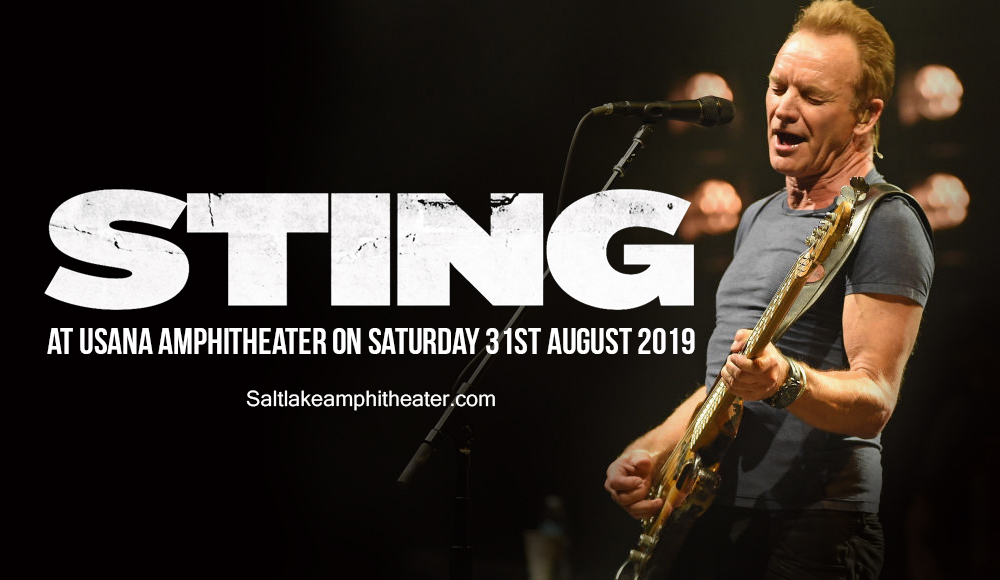 It's hard to contain one's excitement especially when an artist of world-class caliber has dropped the news of upcoming tour dates. One such artist that can cause an uproar is none other than Sting. His "My Songs" tour is a sweet song to the ears of his legions of followers.
According to his official website (Sting.com): "(The tour) will be a rollicking, dynamic show focusing on the most beloved songs written by Sting and spanning the 16-time Grammy Award winner's prolific career with the Police and as a solo artist. Fans can expect to hear 'Englishman In New York,' 'Fields Of Gold,' 'Shape Of My Heart,' 'Every Breath You Take,' 'Roxanne,' 'Message In A Bottle.' and many more, with Sting accompanied by an electric, rock ensemble."
Sting first broke new ground with his band The Police which enjoyed staggering amount of success worldwide as the released a plethora of hit songs which include 'Message In A Bottle' 'Don't Stand So Close To Me' 'Every Breath You Take', 'Roxanne', Every Little Thing She Does Is Magic', 'de do do do de da da da' and a whole lot more. Then Sting venture as a solo artist took flight and reached unprecedented heights with his massive hits which include: "Shape of My Heart", "Englishman In New York". "Fields of Gold", "If I Ever Lose My Faith In You". He has bagged a total of sixteen Grammy Awards, three Brit Awards and several Oscar nominations for Best Original Song.
Yes, these are Sting's songs that he will sing to you live, right before your very eyes. It's crazy to miss this, so get those tickets now!