USANA Amphitheatre | West Valley City, Utah
The Grey Day Tour is back this year, and we are more than ecstatic to see our favorite rap duo, $uicideboy$, back in the concert scene once again. Joined by Ski Mask The Slump God, $not, Maxo Kream, and DJ Scheme, partners Ruby da Cherry and $crim will take USANA Amphitheater by storm this Sunday, August 21. Fans will surely be hyped as the hiphop icons bring the intensity and excitement of their latest album, "Sing Me a Lullaby My Sweet Temptation." Like last year's tour, $uicideboy$ are expected to deliver an epic, high-energy performance packed with hits and crowd-pleasers for their concert at the famous Salt Lake City venue. Tickets are now on sale, and you can get yours here by clicking the "Get Tickets" link. Hurry and grab your tickets now!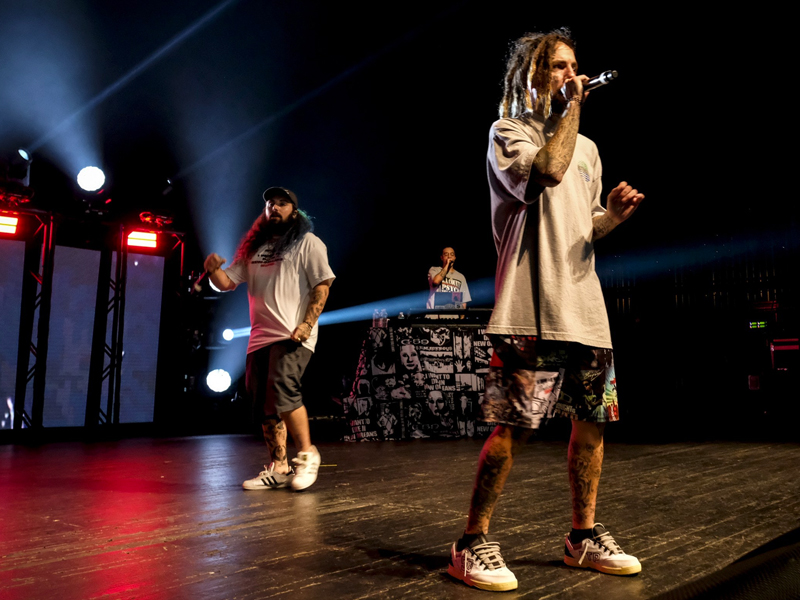 $uicideboy$ continues to flourish, gaining massive support and an underground empire, thanks to their authentic dark lyricism and appealing tunes. As their name suggests, their songs have dark themes that are usually avoided, such as drugs and mental health consequences. Issues that they struggled with. "We all know [those things] exist, and people act like they want to help, but they don't ever do anything. That's why I hate mental health awareness sometimes, you can't just make everyone aware. We hope we can do more than that with our music," says Ruby da Cherry, the duo's brain of designs, in an interview with Billboard.
Fans seem to resonate with their songs despite their despairing themes, helping them overcome their struggles. Ruby da Cherry commented on this, saying, "$uicideboy$ is an ironic name — we are saving people's lives." Because of this, their popularity does not dwindle. Their song "… And to Those I Love, Thanks for Sticking Around" even trended in Tiktok.
A major goal for the tour is to promote the release of the band's next album, "Sing Me a Lullaby My Sweet Temptation," on July 29. Their first single release of the album, "The Evil That Men Do," has already been streamed seven million times on all music platforms. They are off to a good start, as expected of them. A tracklist of twelve banger songs will be showcased on tour. If you loved "The Evil That Men Do," then you will surely enjoy "Genesis," "Matte Black," "Ashes of Luxury," and many more.
The duo will commence touring on August 2. Fans in Salt Lake City, Utah, are lucky as the tour will perform at USANA Amphitheatre on Sunday, August 21. Purchase your tickets today!